Private First Class Foster Barton, of Grove City, Ohio, is a proud member of the 1st Cavalry Division, based at Fort Hood, Texas and currently deployed to Iraq.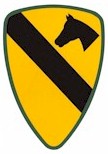 1st Cavalry Division
America's First Team
To: PV2 Foster Barton and All Military
From: Mom and Dad and Family in Ohio
Prayer for Those in the Service: Almighty God, we stand before You asking for Your divine mercy and protection. Embrace with Your invincible armour our loved ones in all branches of the service. Give them courage and strength against enemies both spiritual and physical and hasten their safe journey back to their homes and families. Amen. Foster we love and miss you, you are in our thoughts and prayers.

To: PV2 Foster Barton
From: Mom, Dad & Jess in OHIO
Dear Foster and ALL MILITARY members! God Bless you all! We are so PROUD OF ALL OF YOU and appreciate all the sacrifices you are making to provide us with our freedom! We love and miss you all and pray for a QUICK and SAFE RETURN HOME!! God Bless you all. YOU ARE IN OUR THOUGHTS AND PRAYERS! Chin up. Keep up the great work!!! Love Mom
Last month PFC Barton, 19, almost lost his leg when the Humvee he was riding in ran over a landmine. PFC Barton was awarded the Purple Heart.
To: PFC FOSTER C. BARTON
From: Your Big Sis in Grove City, OH
Foster, I want you to know how very proud we are of you and all the other soldiers that are sacrificing the same things you are. We are praying really hard for you that you fully recover and come home to us safe and sound. Keep the faith and remember how much we love you! Stay strong! We hope to see you soon! Love always, Your Big Sis!
Last Friday night, PFC Barton was brutally beaten in the parking lot of the Germain Amphitheater in Columbus, Ohio as he was leaving the Toby Keith concert.
To: Foster Barton
From: Becky Davis and Family in Ohio
Hi Foster. I just wanted to say how sorry we are to hear of your experience at Germain, and thank you for everything you're doing to keep my family free and safe from harm. We'll be praying for you each and every day here in Columbus. God Bless You son, you're making us proud to be Americans.
"I don't remember getting hit at all, really," said PFC Barton. "He hit me in the back of the head. I fell and hit the ground. I was knocked unconscious and he continued to punch and kick me on the ground."
He and his family say he was attacked because he was wearing an Operation Iraqi Freedom t-shirt.
According to the Columbus police, six witnesses who didn't know Barton said the person who beat him up was screaming profanities and making crude remarks about U.S. soldiers.
PFC Barton was beaten so badly that he can't go back to Iraq as scheduled. He had been on a 2-week leave from Iraq when the incident happened.
PFC Foster Barton
PFC Barton said he wants to go back as soon as possible because his unit was just attacked.
Barton's mother said she has a message for her son's attacker, who police said ran into the crowd after the incident and was not arrested.
"He needs our prayers, just like the insurgents, because he's a coward," Cindy Barton said.
Yes ma'am, he's a coward, but no ma'am, I don't think I'll be praying for him. What he needs is his ass kicked. And I will volunteer to kick his ass all the way to Fort Benning, Home of the Infantry, where I will persuade him that it truly is in his best interest to sign up for Basic Combat Training.
And maybe after a few weeks of attitude adjustment, compliments of the Drill Sergeants in Basic Combat Training and Advanced Individual Training, he can be assigned to a combat unit in Iraq (forget about the 1st Cavalry Division .. he would never last).
A bit of wishful thinking, but that would be justice in my book.
This one makes my blood boil. I cannot be and do not wish to be objective. While separated by a stretch of years, PFC Barton and I share a bond .. we are both 1st Cavalry Division combat veterans .. and few bonds are stronger than that.
I hope Toby Keith learns of this .. maybe he'll write a song about it. Which now that I think about it -- what the hell was that coward who attacked PFC Barton doing at a Toby Keith concert if not looking for trouble?
The larger story is troubling and it is this: the angry anti-war rhetoric coming from leftists in this country -- yes, that includes John Kerry, Howard Dean, moveon.org et al -- has reached a point where it is no longer distinguishable from the propaganda of our enemy .. and it is inciting the type of actions last Friday night at the Germain Amphitheater.
Or do you think the cowardly attacker is a W supporter?
Decorated Soldier Attacked At Concert
NOTE:
You can find the messages to PFC Barton, quoted above, at
To Our Soldiers
. It's a great resource for our soldiers and their families and friends. Check it out.