From
Justin Wilson's Homegrown Louisiana Cookin'
This is a good topping for ice cream, over fresh-baked biscuits, or over not-too-sweet cakes. Serve warm or cold.
1/4 lb (1 stick) margarine or butter (butter is better)
1 cup dry white wine
4 cups sliced apples
1 teaspoon ground cinnamon
1 cup sugar
2 tablespoons lemon juice
1 1/2 teaspoons vanilla extract
Over medium heat in a heavy saucepan, melt butter, then add the wine and stir in the apples. Sprinkle the cinnamon and sugar over the apples and stir. Continue cooking for about 10 minutes, then stir in the lemon juice and vanilla. Lower the heat to a simmer and cover. Continue cooking for 2 hours, stirring occasionally until the apples break up.
Yield: about 3 cups
Whoooooo boyeeeeee! I gaw-RAHN-tee!
Enjoy!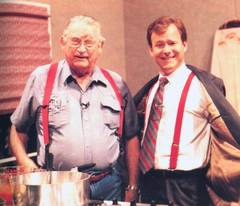 "Leo calls this his Justin Wilson decor. We're wearing both a belt and suspenders -- not taking any chances." -- Justin Wilson (1914-2001).