UPDATE 10 (Monday, 10:36am Central):
Not surprisingly, we've had a few power hits. Off for 10 minutes or so then back on, lights flickering and such.
The winds are just incredible. Hurricane Force in Mobile and Baldwin counties, worse in Mobile County.
Sustained winds at about 80mph with 100mph gusts in Baldwin County, south of I-10.
Extremely powerful, shocking gusts.
Of course, it's much worse in Pascagoula, Biloxi and Gulfport, but I don't think anyone expected it to be this bad this far to the East.
Conditions continue to deteriorate here and will worsen in next 2-3 hours.
=====================
UPDATE 9 (Monday, 8:07am Central):
Blinding rain. Powerful winds. A couple of trees are down in the neighborhood. It looks like a hurricane on the Bay. Keep in mind that I'm blogging from about 140 miles from the center. Katrina is packing an incredibly powerful punch.
I just heard on the radio that Pascagoula, Mississippi is getting hammered by the East Beast. I wonder about Biloxi and Gulfport.
A transformer just blew out --- we won't have power for much longer.
The Bay looks like the ocean... big waves.
=====================
UPDATE 8 (Monday, 7:35am Central):
I just let Lizzie out to pee and Doc made a dash for the backyard. I wish I had video of that poor decision on Doc's part. Just about the time he hit the middle of the yard, a strong gust hit and Doc did some kind of 180º cat backflip manuever before bringing his sorry ass back to the house ... all in about 1.5 seconds.
And just like a cat, he is now staring accusingly at
me
.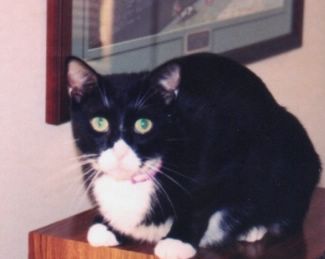 =====================
UPDATE 7 (Monday, 7:00am Central):
About an hour ago Katrina made landfall at Plaquemines Parish in SE Louisiana.
Mark Sudduth of
Hurricanetrack.com
is thinking that Katrina will move on a path just East of New Orleans. That would be some good news.
In Baldwin County, south of I-10 and about 140 miles from Katrina's center, we are being pounded by exceptionally powerful Tropical Storm Force winds, with higher gusts. It's gonna get worse between now and about noon.
Heck, she feels like she's coming right up the middle of Baldwin County and if we didn't have the wonders of modern technology and hurricane tracking, I'd swear that Katrina had made a direct hit on the coast of Alabama.
I don't even want to think about what it's like closer to Katrina.
I need more coffee.