Notes from
Defense Department Briefing on Ongoing DoD Response to Hurricane Katrina, Lieutenant General Joseph Inge, deputy commander, U.S. Northern Command, Saturday, September 3, 2005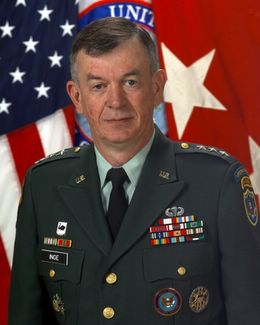 Lieutenant General Joseph R. Inge
[LTG Inge is one of the finest officers I've ever known. He is a soldier's soldier and a soldier's general. He has commanded at almost every level of the Army. He's Airborne/Ranger/Special Forces-qualified and ... he is still very proud of the Blue Ribbons his calves earned at the Virginia State Fair when he was a teenager]
Enormous effort underway to save lives, restore order, and begin what will be the greatest disaster recovery effort in our nation's history.
First and foremost concerns continues to be the immediate rescue effort.
- have reached thousands of Americans stranded on rooftops or trapped on islands or on solid footing
- will continue to scour the countryside and communities for those who might yet remain
- will continue until we are confident that every person in dire straits has been located
- large amounts of resources flowing into the area – food, water and medical supplies along with people --a heroic effort by any standard or measure. It will continue as long as is necessary.
U.S. Northern Command leads the DoD relief effort; great young Americans working around the clock to support the relief effort.
5,000 Active Duty troops on the ground and approximately 15,000 National Guardsmen. More are moving to the area.
- 20 million MRE meals are being delivered -- in the pipeline flowing there.
- tons of water.
- huge amounts of medical and logistics.
This effort will continue until it is no longer needed.
Will establish a safe and secure environment for those Americans affected by the disaster.
We place at the ready some of our nation's most capable military:
–
82nd Airborne Division:
2,500 paratroopers
-
1st Cavalry Division:
2,700 cavalry troopers
-
1st Marine Division:
1,000 marines
-
2nd Marine Division:
1,000 marines
The first wave of these troops will flow into the New Orleans area. Their purpose is to contribute to the effort to bring about a more stable environment, and to assist in disaster relief.
These are Title 10 [Active Duty] forces. They will not take on a law enforcement role, nor have they been directed in any way to do so. They will provide security. They will relieve National Guard guys to do law enforcement.
Their main effort will be providing relief to suffering people so that any type of thing that smacks of law enforcement can be done by the National Guard.
Active Duty forces will have standard rules of engagement for use of force:
- the right of self protection
- the right and authority to act should they witness an event that could cause loss of human life
In general, Active Duty troops will provide humanitarian assistance and the National Guard will handle any looting and rioting.
The main part of the Active Duty force will be on the ground within next 72 hours.
- 82nd Airborne troops should be on the ground by mid-afternoon [Saturday, Sept 3).
- 2nd Brigade, 1st Cavalry Division, will be on the ground within the next 48 hours.
- Marines will be on the ground within 48-72 hours.