Retired Brigadier General Herbert J. Lloyd is a native of Hope, Arkansas. He joined the Army as a private and served as Rifleman, Machine Gun Squad Leader, and Rifle Platoon Sergeant.
As a Sergeant First Class, he attended Officer Candidate School and was commissioned a Lieutenant of Infantry in 1964.
He served two tours in Germany and saw service in Vietnam in 1962-63, 1966-68, and 1972.
He served as a Platoon Leader, Company Commander, and G3 Training Officer in the 82nd Airborne Division.
He also served as an Advisor with the Vietnamese Rangers and the Vietnamese 6th Airborne Battalion.
He was Chief of Tower Committee and Chief of Operations in the Airborne Department at Fort Benning, Georgia.
Additionally, he has served as:
Tactical Officer, United States Military Academy, West Point, NY
Brigade Executive Officer, 8th Infantry Division, Germany
Commander, 3rd Battalion, 11th Infantry, 5th Infantry Division, Fort Polk, LA
Deputy Chief of Staff, 5th Infantry Division, Fort Polk, LA
Commander, 2nd Brigade, 5th Infantry Division, Fort Polk, LA
Chief of Staff, 10th Mountain Division, Fort Drum, NY
Assistant Division Commander, 2nd Infantry Division, Republic of Korea
Lloyd & Love - Colonel Herbert J. Lloyd with his righthand warrior, Command Sergeant Major Ivanhoe Love
He is a graduate of the US Army War College, the Command & General Staff College, Infantry Officer Advanced Course, Ranger School, Pathfinder School, Northern Warfare Mountain Climbing School and Jungle Warfare School. He holds a B.A. and M.A. from Auburn University.
Here are just a few of his awards and decorations:
2 x Silver Stars
1 x Soldier's Medal
7 (not a typo - SEVEN) x Bronze Star Medals (with "V" device for Valor)
2 x Purple Hearts
Combat Infantryman's Badge
Master Parachutist Badge (with 3 Gold Stars for combat jumps)
Ranger Tab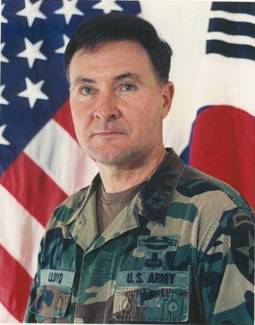 Herbert J. Lloyd: American Samurai & Greatest Warrior of the 20th Century
He has so many awards and decorations that when he wore his Army Dress uniform, his Combat Infantryman's Badge very nearly rested on top of his left shoulder.
In 1986, while still on active duty, then-Colonel Herbert J. Lloyd was inducted into the OCS Hall of Fame at Fort Benning, Georgia. OCS graduates will understand what an extraordinary honor that is -- especially considering who the other inductees are and that most are inducted long after they have left active duty.
Herbert J. Lloyd is one of the most extraordinary men I have ever met. Any soldier who has ever served with him can attest to the life-changing influence he has had on them.
In my humble opinion, he is the greatest warrior we've had in modern history.
========================
NOTE: If you would like your comments posted in the comments section below, please send an email to:
merrymadmonk@gmail.com