This post is born through encouragement from one of my favorite bloggers and Dennis who actually lives in a monastery 9 months out of the year. Thanks for your interest.
Our lineage dates back almost 600 years to Kim Chong-so, a powerful warrior/councilor who secured fame in establishing six military garrisons in northeast Korea under King Sejong's "expansion of the frontier region of Chosun".
Chosun Warrior
(Seoul Art Center)
In 1953, after the Korean War, a small group of highly trained American soldiers unofficially became part of a Korean miltary order that traces its lineage back to Kim Chong-so and his Chosun warriors.
Initially garrisoned with Korean soldiers in austere quarters near Munsan-ni, a few miles south of the DMZ (Demilitarized Zone), they were nicknamed the "Merry Mad Monks of Musan-ni" by other American soldiers who marveled at the lives these men led.
While officially known by another name, they adopted the moniker Merry Mad Monks.
In May 1957, the nickname was changed to the Merry Mad Monks of the DMZ.
In 1961, the unit moved even further north and was garrisoned at Camp Kitty Hawk. A new facility, appropriately named The Monastery, became a home away from home for the Monks living on the DMZ.
The Monks lead a highly specialized, hand-picked, 600-man American/South Korean military force which protects members of the Military Armistice Commission, visiting Heads of State and other dignitaries. It also guards the truce village of Pan Mun Jom and conducts ambush and counterinfiltration patrols in the DMZ.
While most Americans are not familiar with the Merry Mad Monks, Pan Mun Jom, or the DMZ, the South Korean government officially recognizes these men as national treasures.
On "Conference Row" aka "Death Row". The "MP" armband is a requirement of the Armistice Agreement. These are infantry soldiers, not MPs.
Eyeball To Eyeball -- My friend Jorge "Ranger" Rangel keeping a watchful eye on North Korean guards peering into the Military Armstice Commission building at Pan Mun Jom. It's an intense place. Stay alert, stay alive.
Sniper Practice. One shot, one kill.
Patrol returning from mission. In the background is a North Korean guard tower. These types of daytime patrols are multipurpose: provide security to the villagers of Taesong-dong, the only South Korean village in the DMZ; conduct reconnaissance; show force.
The most infamous incident involving the Monks was the 1976 Pan Mun Jom Axe Murders.
In August 1976, two of our Monks -- Major (promoted posthumously) Arthur G. Bonifas and First Lieutenant Mark T. Barrett -- were, without provocation or warning, attacked and massacred by a superior force of axe and pike wielding North Korean troops.
Click on photo to enlarge
The incident nearly re-started the Korean War. American and South Korean forces were put on the highest state of alert. As 2nd Infantry Division and 1st ROK Division combat units maneuvered into the DMZ, US aircraft carriers took up positions in the Yellow Sea and the Sea of Japan.
Faced with the reactive and combined forces of the United States and its Korean Allies, Kim Il-Sung issued his first ever and only apology.
Besides the brutal deaths of Major Bonifas and First Lieutenant Barrett, 59 other Americans and 377 ROK soldiers have also made the supreme sacrifice in defense of freedom and democracy in Korea since the Armistice.
In 1984, a firefight occurred at Pan Mun Jom when Vasily Matauzik, a Soviet citizen visiting North Korea, ran across the Military Demarcation Line (boundary between North and South) to defect.
North Korean guards immediately started firing at him and ran across the line in pursuit. JSA soldiers returned overwhelming fire against the North Koreans, killing 3 and wounding 5. One JSA soldier, Corporal Jang Myung Ki, was killed and one, Corporal Michael Burgoyne, was wounded.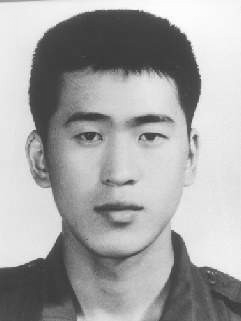 Jang Myung Ki -- Killed in the line of duty while protecting the lives of his comrades and a Russian defector on 23 November 1984.
One of the 3 North Korean soldiers killed turned out to be Captain Pak Chol. In 1976, he had ordered the murders of Bonifas and Barrett. Captain Pak, aka "Bulldog", was taken out by a JSA soldier firing a 40mm grenade launcher. It was a direct hit.
In 1986, Camp Kitty Hawk was re-named Camp Bonifas.
The poem below was read August 18, 1986 by Mrs. Arthur Bonifas, widow of Major Arthur Bonifas, at the ceremony memorializing Camp Bonifas in honor of her late husband.
There he stands, that man of mine,
out on that lonely plain,
In a country strange and different --
it's hard to say its name.
Does that country ever value
how much he sacrifices,
To guard their lives, their hopes, their dreams
in the face of their world crisis?

He stands and he feels loneliness,
alone there standing guard,
To see that our flag of freedom
flies from that fragile lanyard.
And does our country realize
that we too share that post with him?
For our sons are growing up without him
and his parents' eyes grow dim.

So please don't take for granted that man
who patiently stands,
Away from home and family
serving in a foreign land.
He has, and will continue
to strive to ease our pain.
For the tears that fall from your eyes
are reflected in the same.

Yes, there he stands, that man of mine,
out on that lonely plain,
In a country strange and different,
and we scarce can endure the pain.
The "Merry Mad Monks of the DMZ" remain active. The traditional lifting of vintage snake wine to welcome newly joined Monks and to bid farewell to those departing can be heard throughout the halls of the Monastery on frequent occasions.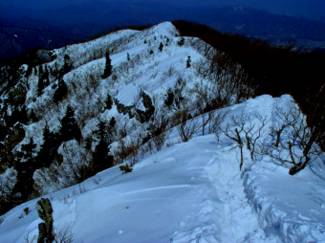 The north wind moans amid the bare boughs
the moon shines coldly on the snow.
I stand, great sword in hand
on the furthest frontier fortress.
I whistle; and the long loud sound
hangs unanswered on the air.
Kim Chong-so (1390-1453)